Our Services
Deploy your service infrastructure on our fully redundant, high performance cloud platform and benefit from its high reliability, security and enterprise feature set.
Domain Name Registration
Choose from hundreds of extensions to get the perfect domain name.
With Domain Registration DNS Australia your domain registration is complete with great value prices and superior service and support. Our high speed AnyCast DNS servers insure that any changes you make to your domain name settings are updated almost instantly and propagate around the world within hours instead of the standard 48 hours.
The best services for your business
Choose from hundreds of extensions to get the perfect domain name.
The best services for your business
We offer a full range of web services, from domain registration to web hosting, and everything in between.
Secure your domain with Domain Privacy and stay in control of it with Domain Manager.
Choose the right level of hosting for your business, from our full range of cPanel Hosting products.
Need a professional email address or Microsoft Office applications? Look no further than our Microsoft 365 products.
Web Hosting
World class web hosting - security and reliability at a great price.
More info
Australian domain names are different from the normal .com domain names in a few different ways. Firstly the .au registry has a different set of rules and regulations. One of the most obvious regulation is you must be a citizen of Australia and have an ABN number. This helps to protect the identity of legitimate Aussie websites. However, without an ABN you are still able to register a normal .com address as this comes under a different set of rules. Generally .com domains are also cheaper. The regulator for .au is called the auDA for top level Australian domain names.

The auDA registry provides these different extensions.

The registry consists of many Australian domain extensions. Different extensions are used for different purposes listed here.

1. .com.au – Commercial or private use
2. .edu.au – For educational use such as schools
3. .net.au – For networking or other personal sites
4. .csir.au -For commonwealth scientific and industrial research groups
5. .org.au – For organisations
6. .asn.au – For an association
7. .gov.au – For government websites
8. .csir.au -For commonwealth scientific and industrial research organisations.
7. .id.au – For Australian individuals.

In general the best internet addresses contain the following considerations

1. They directly reflect the actual name of your new business
2. They are simple and easy to remember. Often a memorable or catchy name
3. They contain three syllables or less. Longer names can be harder to remember.
4. Easy to pronounce and spell
5. Contain the same keywords that searching internet users might type into a web browser

When registering an .au domain name. It's always a really good idea to also register the other versions of this extension so internet users or potential customers don't confuse your address with someone else's website. If you choose to register a .com.au address. It is highly recommended that you also register the .net.au and .com versions of your new name. This stops anyone else trying to take the credit for the services you provide on your website or drive them away and lead them down the wrong path. This could result in you losing that all important sale.

Owing an Australian domain name can be a very exciting time and lead to opening up new exciting possibilities to expand your personal or business identity. Using an Australian identity can be used for both personal and business use.
Domain name registration is different in Australia in respect to when you register a domain name using a normal .com address because you require and ABN number for .com.au level domains. Different network solutions may also require other domain extensions for top level domains.

When you choose a domain registrar or buy a domain name you should choose a registrar and make sure that they offer services such as email forwarding, ssl certificates, email forwarding, privacy protection, a control panel and a great user experience.

A good registrar should also help give you great advice such as suggesting the best business name for your new website. This is done via a domain name suggestion tool that gives you alternate name registration options if you're chosen domain names have already been registered via the domain name search tool. This can also help you find the right domain. If the name you have chosen is already registered you can lookup who the current owner is using a domain Whois lookup tooland make an offer to the owner to acquire it You can also contact our marketing servicesfor great business name research.

A domain is the name of your website that gets converted into its respective IP address.
IP addresses belong to the hosting server your website is located on and is connected to your web address and then displayed on your web browser. One you have your new name setup you will also need to delegate to the hosting provider of your choice.

When you obtain your new web address this also allows you to create a professional email address. If you're not sure how to do and need help you can contact our customer support to step you through the process.

You can get started and find a top level name such as com net or org. These top level domains are often used internationally. However, if you're an Australian company a .com.au or .net.au might be right for you. To get started and find the right domain name just navigate to the top of this page to register.

After you grab your new domain and build a great website you also might want to consider a registered trademark to protect your investment and insure you place a footer at the bottom of your website with something along the lines of (llc all rights reserved)

After you have established your business online there are some great tools and services you can implement to increase your productivity such as google workspace. Formally known as Google apps for your domain or Google domain this brings together productivity and collaboration tools which are hosted in the cloud and can complement your domain name registration and website management.

Our domain services have been modeled off the well-known U.S based company web.com group inc and we have built our online reputation here in Australia to match or exceed those expectations.

Our hosting plans boast and provide world class servers and are some of the fastest high speed hosting solutions in the country, if not the world. The network solutions we have put in place insure that your website will experience 100% uptime. All hosting plans also offer free SSL certificates, free backups, free email forwarding, DNS management and secure privacy protection.

If you need help at any time you can contact our customer support team via email 24/7 and receive and instant response. If the problem cannot be solved on the spot a support ticket will be generated and one of our domain support technicians will be assigned to you case.

If you have been searching to register a cheap domain name "Domain Registration DNS" has some of the lowest prices in Australia and provides enterprise grade products and small business startup costs. Australian Domain Name Registration can be expensive with some Australian registrars who can charge over $130 per two year registration period. Our instant registrations are as low as $15 per year and all extensions are now on sale

Our services extended to out to Melbourne, Sydney, Brisbane, Perth, Adelaide, Darwin and internationally. We also operate DNS servers in several locations around the world.

Starting an Australian Business can be quite daunting and confusing. You can find all the information you need right here on our website. As one of Australia's best domain registrars you get great value and the best domain name registration in the county.
Our Service Area
We offers services through out Australia, enabling you to deploy your service infrastructure in close proximity to your customer base.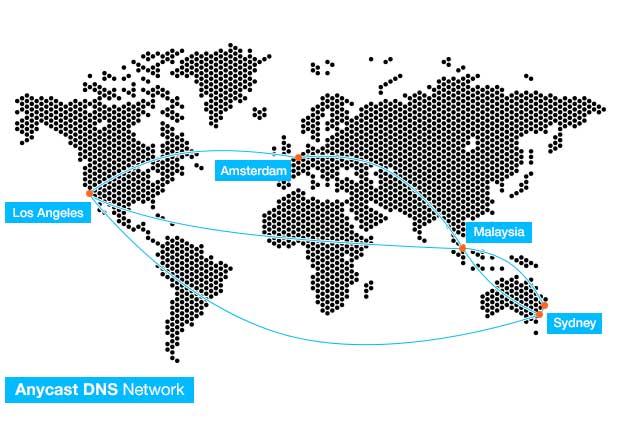 Looking for a custom solution?
Our technicians can provide you with the best custom made solutions on the market, no matter whether you're a small business or large enterprise.

Get in touch